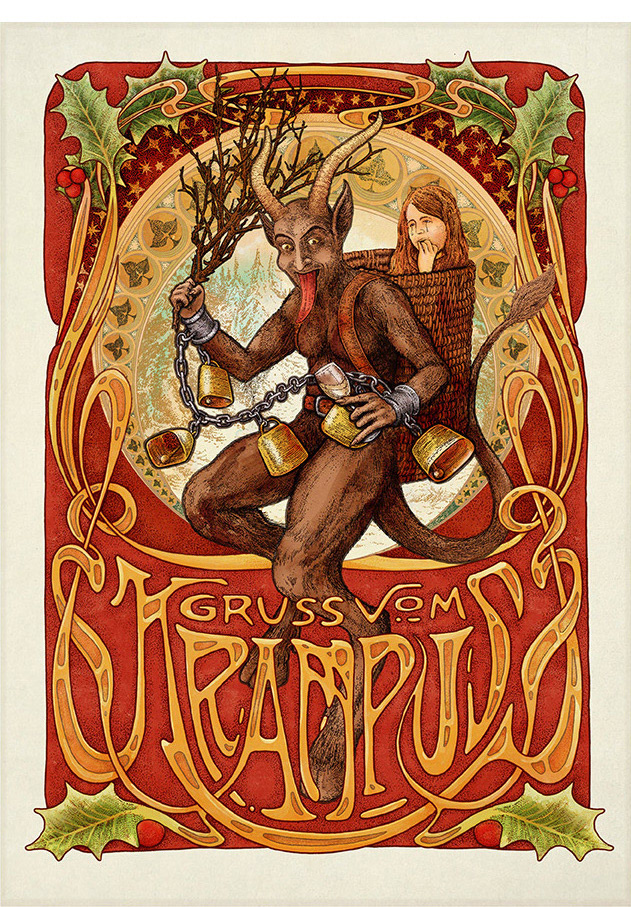 Gruss vom Krampus 2018
The evening of the 5th December, the night prior to The Feast of St. Nicholas (celebrated across Europe on 6th December) is known as Krampusnacht. On this night a wicked hairy devil, half goat, half demon, appears on the streets visiting homes and businesses, occasionally accompanied by Saint Nicholas. If he visits you it is customary to offer Krampus a glass of schnapps.
Where St. Nick concerns himself only with good children, Krampus deals with the naughty and the bad, carrying them away in a basket on his back. Have you been good little boy or girl this year?
"Gruss vom Krampus 2018" is now available from my
online store
as a limited edition signed and embossed A2 art print or alternatively as a pack of 5 Krampuskarten greetings cards
.
Any resemblance to actual persons, living or dead, (particularly the artist and his youngest daughter) or actual events is purely coincidental (no children were harmed in the making of this product).

* Black frame shown below is for suggested presentation only and is not included with purchase.