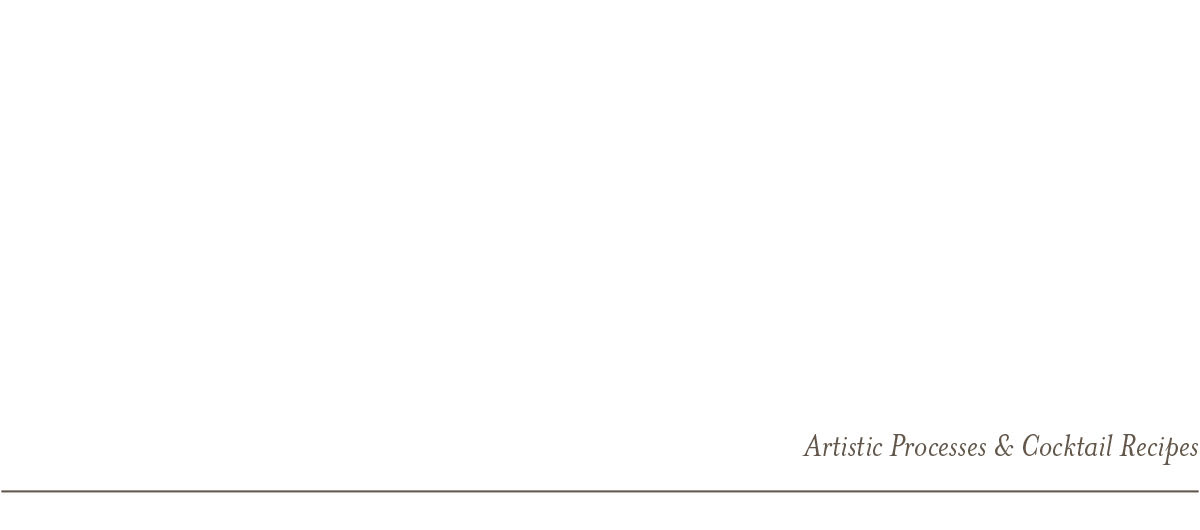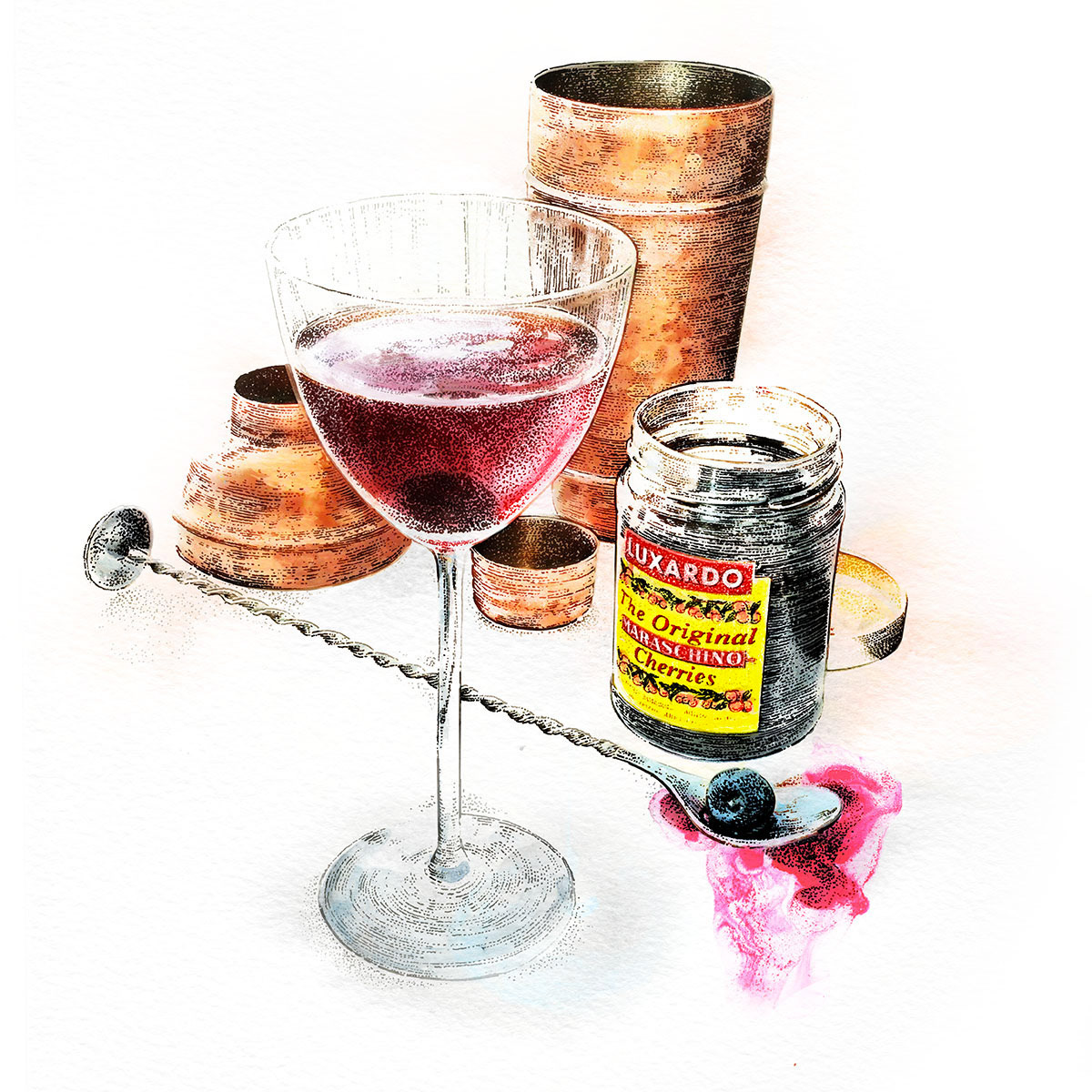 Mr.Chadwick's Tipsy Tipple Tips No.1:
When making a Manhattan, try drizzling 5ml of syrup from a jar of Luxardo Marascino cherries into the mix. 
Perfect for frosty Autumn evenings in front of the fire.
Sweet As Manhatta
n
———————————
50ml x Few Spirits Bourbo
n
2
5ml x Antica Formula
5ml x Luxardo Maraschino Cherries Syrup
2 x Dashes of Angostura Bitters
Stir all the ingredients with ice well and serve straight up into a chilled Nick & Nora. 
Garnish with one Maraschino Cherry.


This duel purpose post demonstrates two of my great passions - my working process and one of my favourite cocktail recipes.
Firstly the process involves drawing a black and white line illustration of the subject. Secondly (and obviously only if required) I'll paint a colour version with none of the detail, just coloured blocks, using watercolour and gouache. I'll then use this to colour the ink drawing, the result of which is then in turn overlaid on top of the painting.
Finally, (and hopefully it's post lunchtime) I move into the bar for my own reward…
​​​​​​​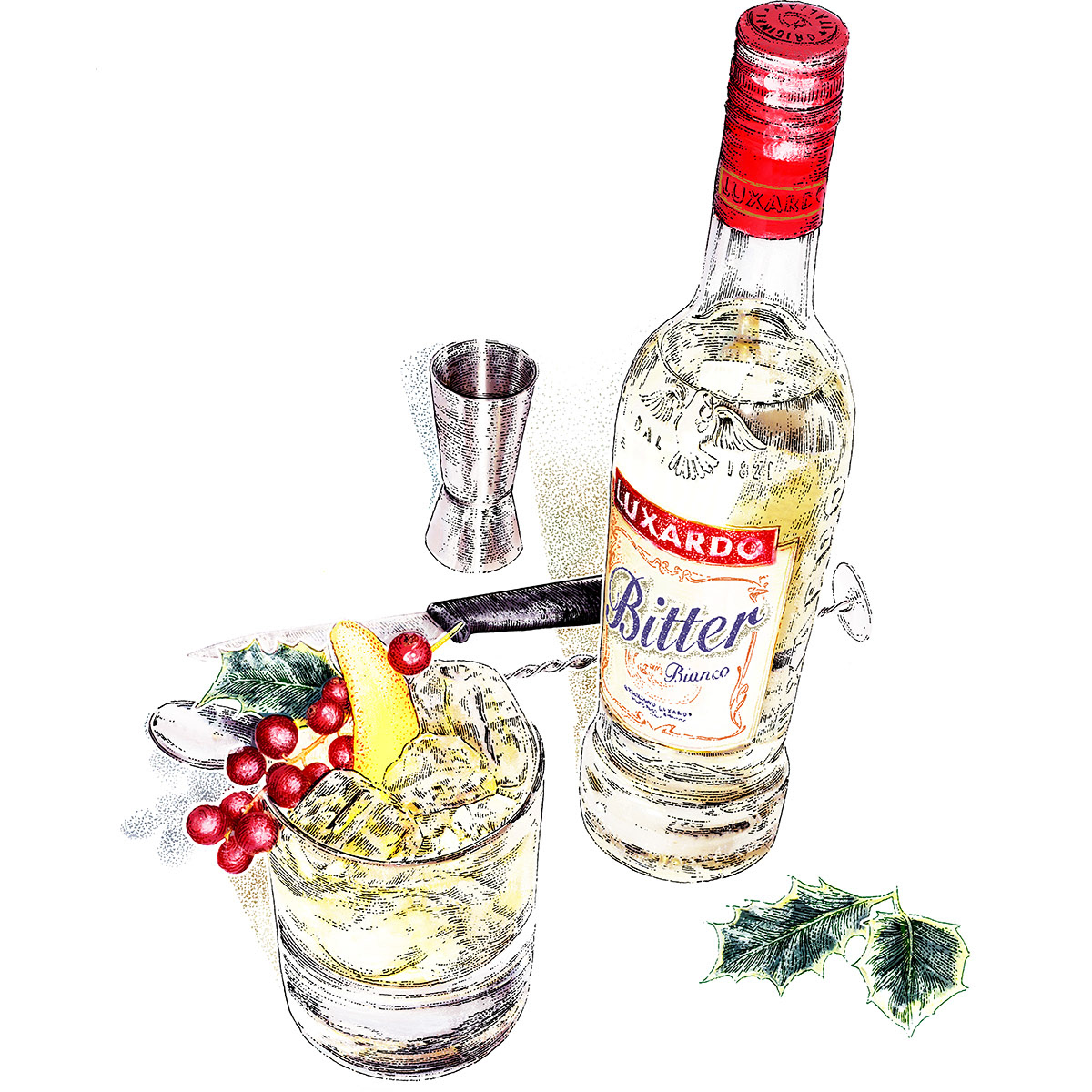 Mr.Chadwick's Tipsy Tipple Tips No.2:
My new year's revelation for 2017 has to have been Luxardo Bitter Bianco. This is my recipe for a festive white Negroni.

(I'm Dreaming of a…) Bianco Christmas
—————————————————————
25ml Elephant Strength Elephant Gin
25ml Luxardo Bitter Bianco
25ml Lillet Blanc

Build over rocks in a fat bottomed Boris tumbler. Garnish with a strip of grapefruit zest, a string of redcurrants and a sprig of holly.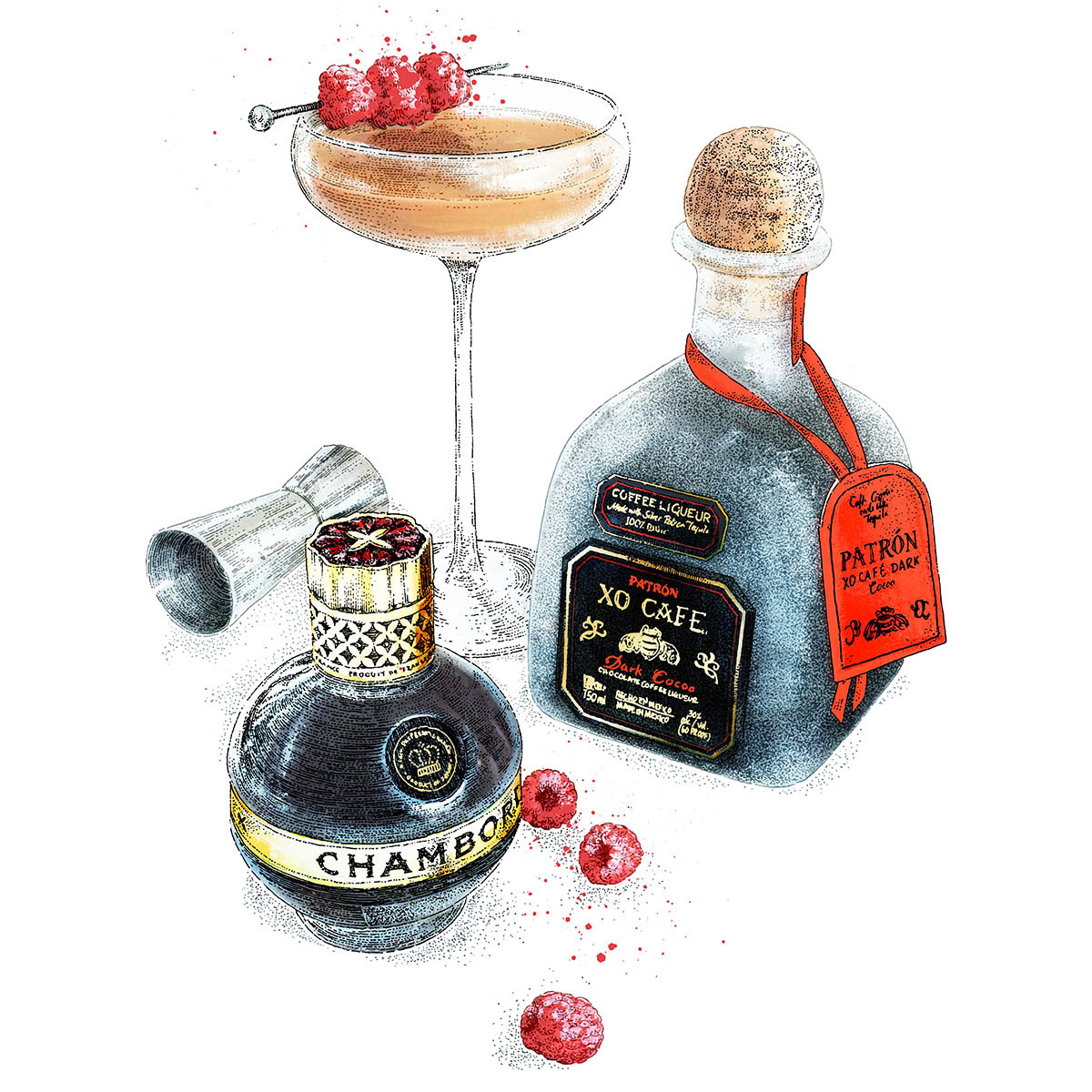 Mr.Chadwick's Tipsy Tipple Tips No.3:
'Sexy, smooth and a little bit naughty. The drink isn't too bad either' 
Those are the words of the master of tequila, Dré Masso in describing the classic 'Silk Stocking'. This is my simple yet luxurious twist on a drink that makes a perfect after dinner serve. 

Dark Stocking
—————————————————————
75ml Patron XO Cafe Dark Cacao Tequila
25ml Chambord (Black Raspberry Liqueur)
25ml Single Cream

Shake ingredients well with ice and strain into a chilled Josephine. Garnish with three fresh raspberries.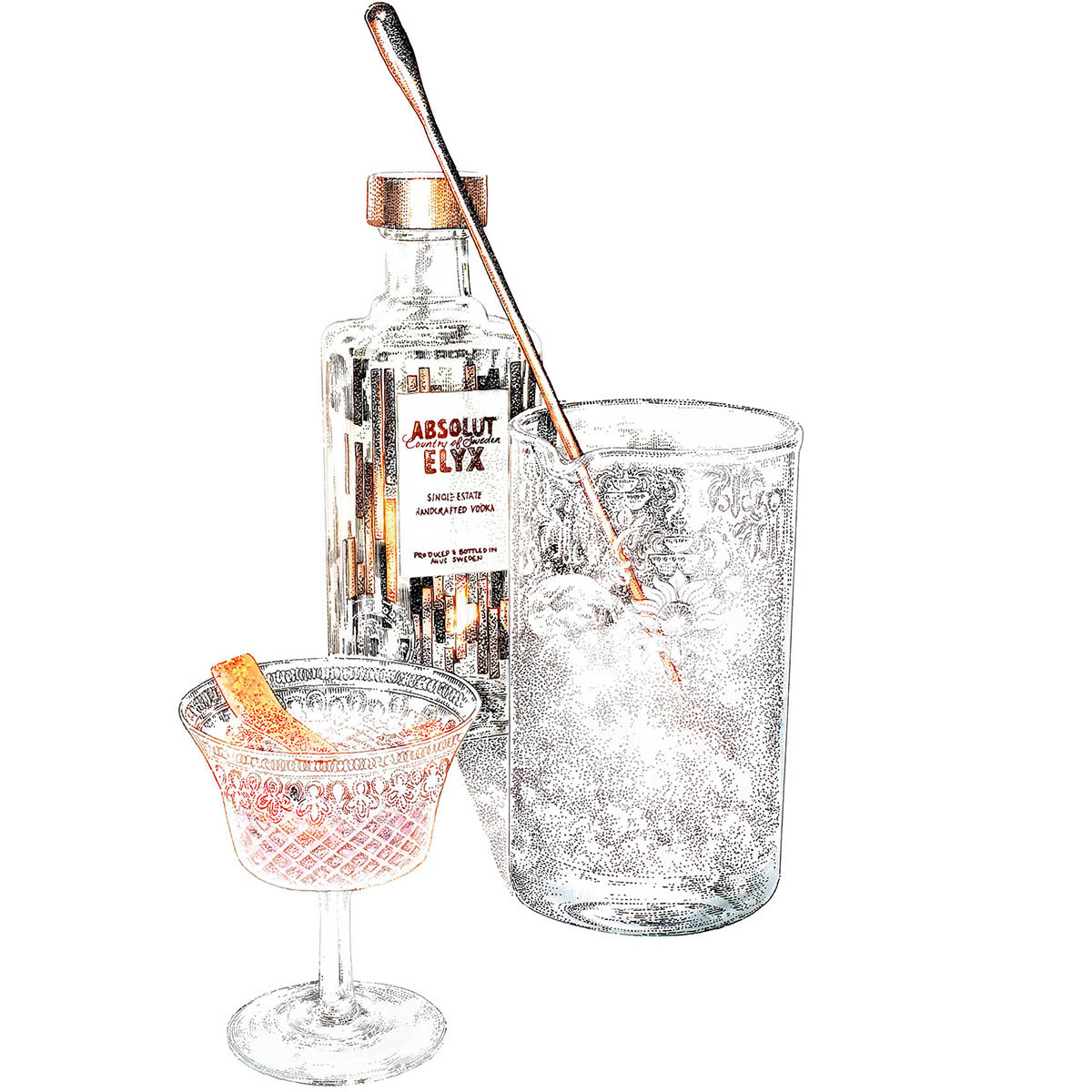 Mr.Chadwick's Tipsy Tipple Tips No.4:
I created this pretty little drink under the tutelage of @nickstrangeway during an Martini Masterclass in Åhus a couple of years ago. That day, the Martini was demystified for me. There is no right or wrong way to enjoy a Martini - it's all about complimenting the base spirit. And if your base spirit is vodka, it has to be Elyx.
Oh, and have I ever mentioned how much I love Campari?
My Copper Rose Martini
—————————————————————
50ml Absolut Elyx Vodka
5ml Campari
Stir the Campari with ice, using a copper bar spoon in an Absolut Elyx mixing glass (damask pattern by Artistic Type). Pour the Campari away (I know, sacrilege, but trust me), retaining the rinsed ice. Add the Absolut Elyx and stir well before straining into a chilled Martini glass.
Garnish with an orange twist.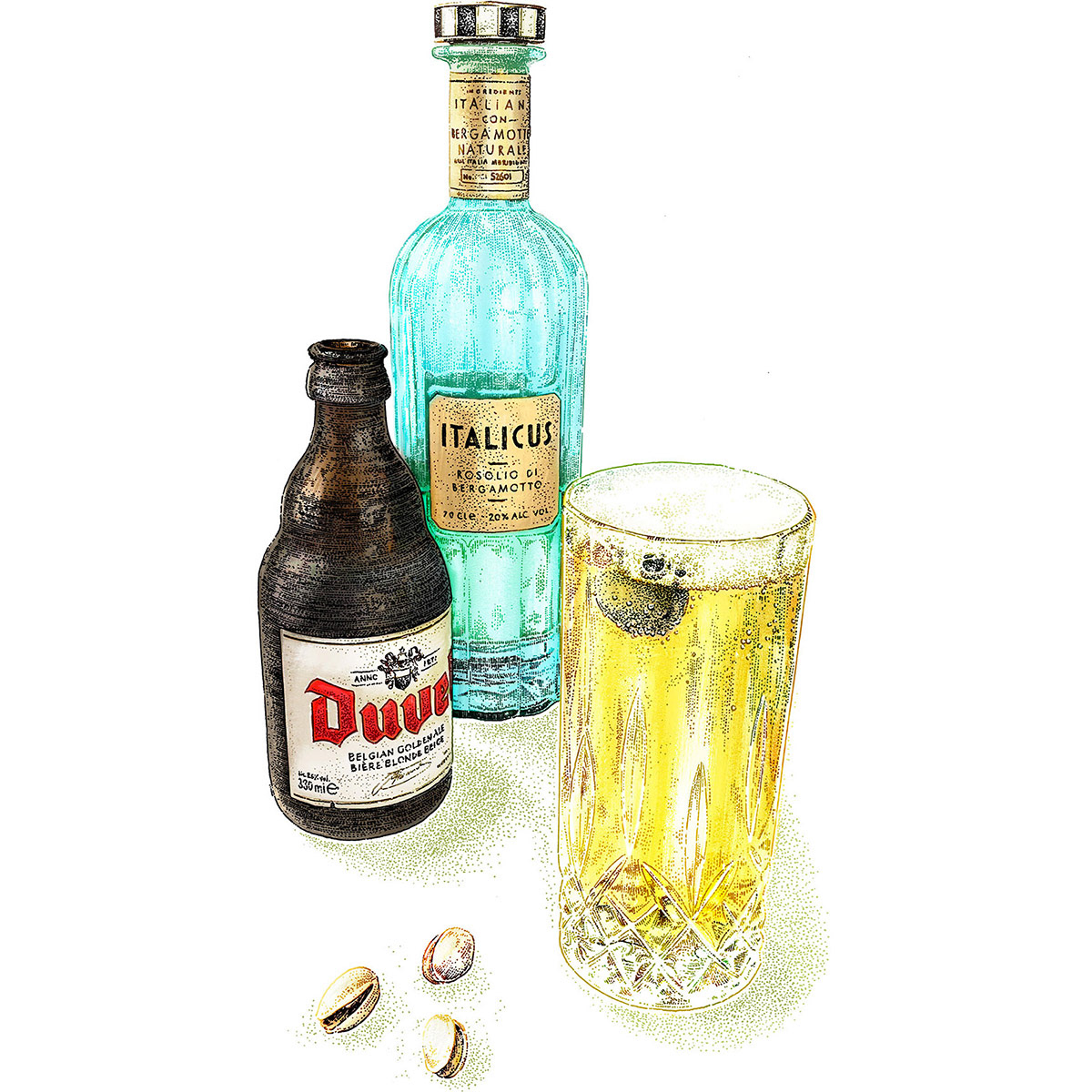 Mr.Chadwick's Tipsy Tipple Tips No.5:
Italicus has really taken the drinks industry by storm over the last 18 months or so and I was intrigued to read that one of the signature serves involved adding it to an IPA. 'A beer based Cocktail?' I thought... reminded of those teenage parties when kids would just throw anything together in order to get smashed quicker.
However, I tried it and it was, OK. In fact it was better than OK, but I wasn't convinced that it improved on the flavour of either of the base ingredients and that surely has to be the purpose of making cocktails?
Following a bit of trial and error, this is my recommended serve. I found that a shot of Italicus perfectly complements and rounds out a small bottle of Duvel Belgian Golden Ale. This is what I'll be drinking this summer whilst watching the World Cup and cheering on Italy.  (Oh, what was that... ?)
Better the Duvel You Know
—————————————————————
330ml Duvel Belgian Golden Ale
25ml Italicus
Pour the Italicus into a Highball or Beer Glass, followed by the Duvel. Garnish with one pitted Gaeta green olive. Serve alongside some suitably salty snacks.

Mr.Chadwick's Tipsy Tipple Tips No.6:
Earlier this year I began work on a cocktail book project for a Scotch Whisky brand. Naturally, being a method artist, I made and tested all of the cocktail recipes myself before drawing them.

The result that I am able to share at this time is this - my illustrated variation on that winter panacea, The Penicillin. It requires an element of work in advance with the Honey & Ginger Syrup, but this can be stored in the fridge for future servings for some time so it's worth the effort.
My main twist on the traditional recipe is to wipe the rim of the glass with a red hot chilli pepper to really open up those airways before drinking.
My Penicillin
—————————————————————
50ml Dewars 12 Year Old Blended Scotch
20ml Fresh Lemon Juice
20ml Honey & Ginger Syrup* (made in advance - see below)
10ml Laphroaig Select
Garnish: Sliced Chilli Pepper and 2 x Candied Ginger Pieces
---
Method for Making the cocktail:
Combine the whisky, lemon juice, and syrup in a cocktail shaker filled with ice; shake vigorously and strain into an Old Fashioned glass containing one large ice sphere resembling a good sized snowball.  Float the Laphroaig over the top, wipe the sliced chilli pepper around the rim of the glass a couple of times and finish with candied ginger.
---
For the Honey-Ginger Syrup (makes about 400ml):
250ml Runny Honey
250ml Water
6"  Root Ginger, peeled and thinly sliced
---
Method to make the Honey & Ginger Syrup:
Combine the honey, ginger and water in a saucepan and bring to boil. Reduce heat and simmer for 5 minutes. Chill overnight and then fine strain before bottling and storing in the fridge.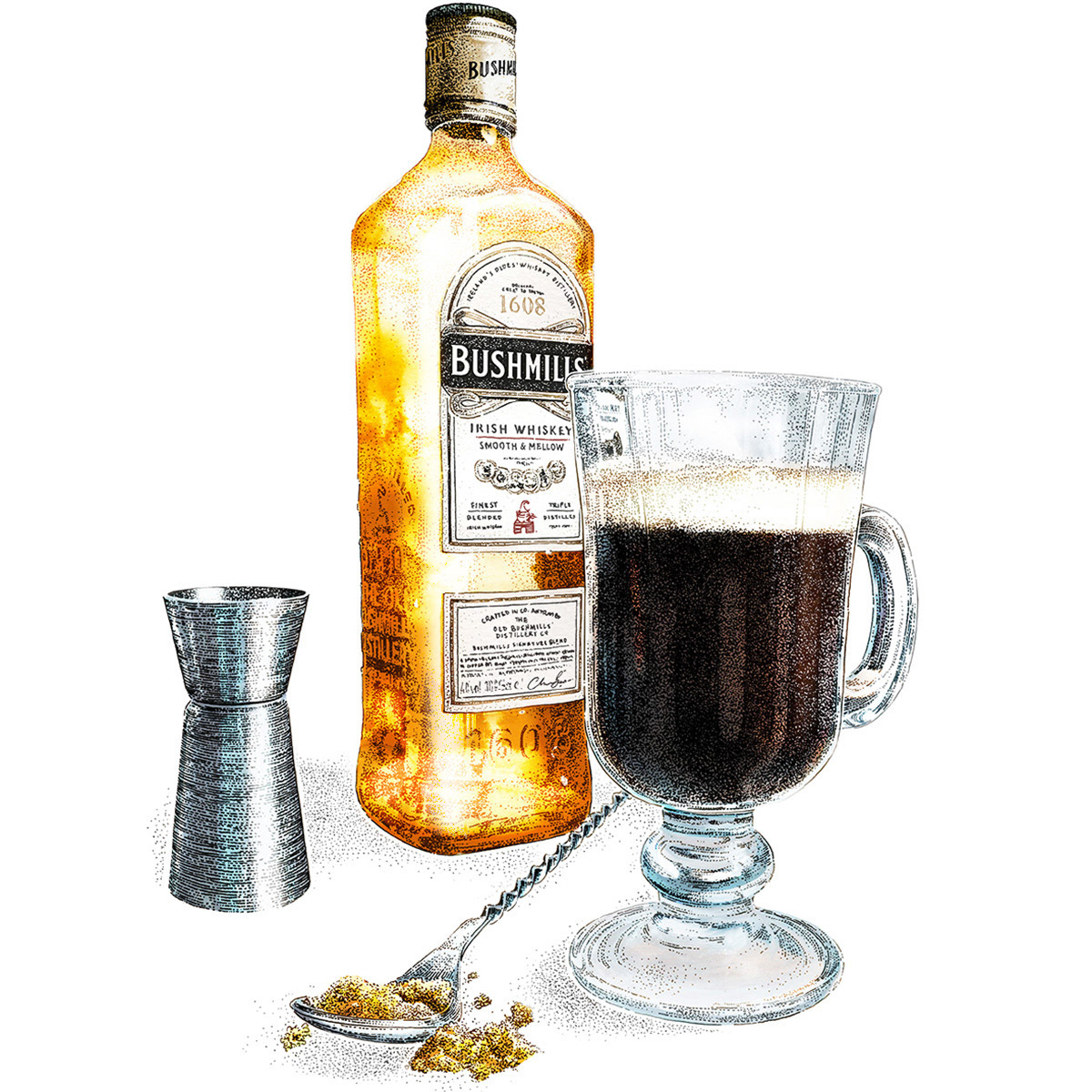 Mr.Chadwick's Tipsy Tipple Tips No.7: Myrish Coffee
———————————————————————————————
Why do so many bars (I'm talking locally - Manchester and the Northwest) serve Irish Coffee with squirty cream? I can only think it's because they have unskilled bar staff. It's an easy solution since squirts cream floats easily.
BUT, squirty cream looks rubbish and tastes even worse. A good Irish Coffee is one of my favourite indulgences. These days I only make them at home, usually as a reward after a long weekend training run. And here's how…
Myrish Coffee
———————————————————————————————
40ml Bushmills Irish Whiskey
100ml Espresso Shots (50ml from each of two Nespresso Pods)
15ml Demara Sugar or 15ml Homemade Demara Sugar Syrup
20ml Double Cream
Garnish: 3 Coffee Beans
---
Fill your coffee glass with boiling water and let stand for a couple of minutes. In the meantime fill another cup with boiling water and stand a teaspoon in it. Discard the boiling water and add the sugar and whiskey to your glass. Gently heat the whiskey through the glass with a chef's blowtorch whilst stirring (don't ignite the spirit!). This stops the coffee from going cold when you add it. Run the first Nespresso pod directly into the glass of whisky and stir thoroughly. Then run the second Nespresso pod directly into the glass without stirring. Finally take your heated teaspoon and pour the double cream slowly over the back of the bowl end onto the surface of the coffee and float three coffee beans on the top. Put your feet up.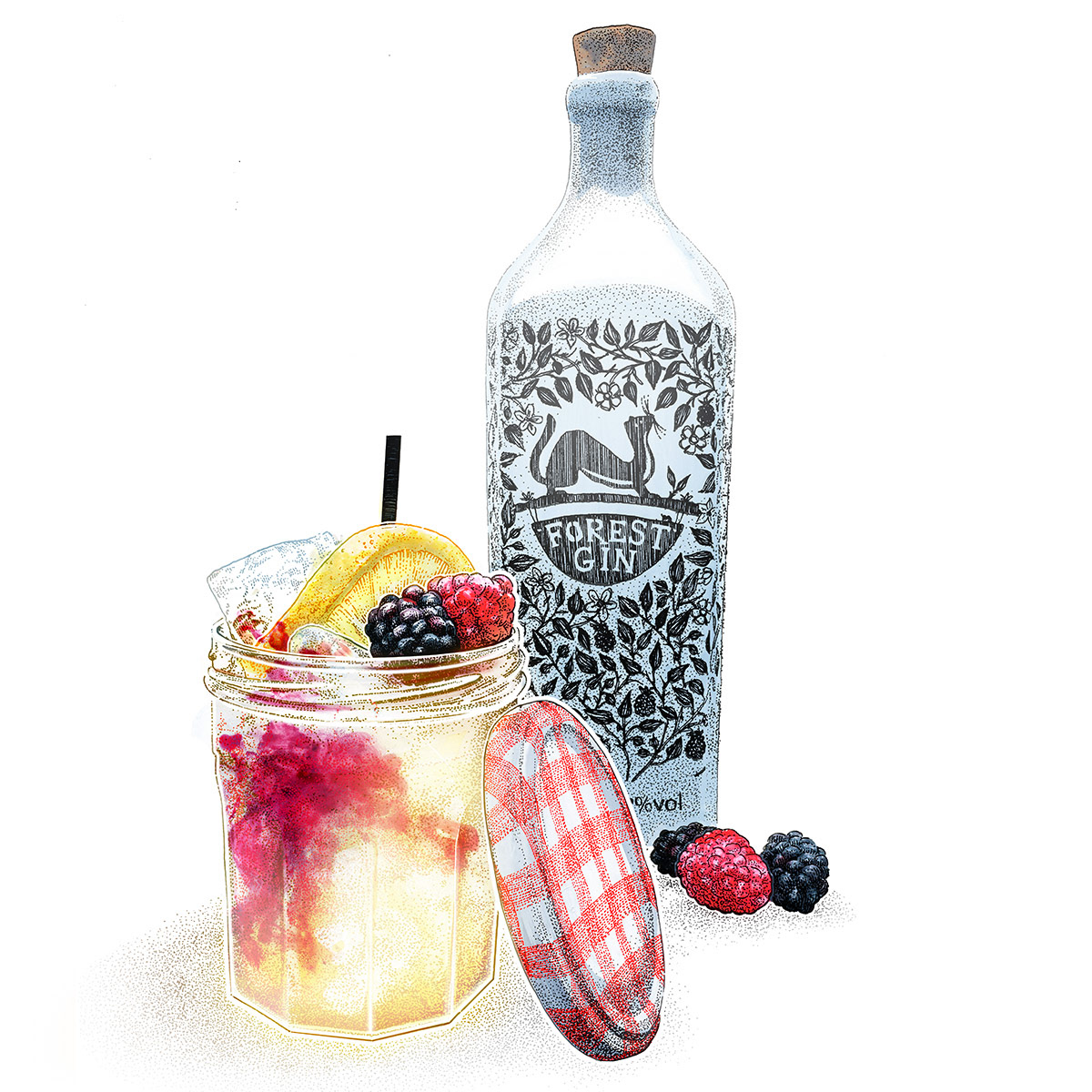 Mr.Chadwick's Tipsy Tipple Tips No.8: Forest Bramble
———————————————————————————————
Forest Gin is a local delicacy here in Macclesfield; a distillation of premium spirit with locally foraged organic ingredients. To my palate, the berry notes in this gin complement Creme de Mure (Blackberry Liqueur) perfectly, making it a natural choice in a Bramble. The Bramble was originally invented by Dick Bradsell in the 1980's, inspired by fond memories of blackberry picking as a child.
Forest Bramble
———————————————————————————————
50ml Forest Gin
25ml Freshly Squeezed Lemon Juice
15ml Briottet Creme de Mure
10ml Sugar Syrup
Garnish: Lemon Wheel, Blackberry, Raspberry
---
This clever little technique is borrowed from world reknown bar tender Dre Masso and is perfect for the home bartender - especially if you don't have a cocktail shaker or are perhaps out picking fresh blackberries! Firstly, add the Gin, Lemon Juice and Sugar Syrup with some cubed ice to a jam jar, secure the lid and give the contents a quick shake. Remove the lid, top with more ice and add the garnishes. Finally drizzle the Creme de Mure gently over the top and let it bleed into the mix.